This monument commemorating Sarah Emma Edmonds, born in Magaguadavic in 1841, is located on Saunders Road off of Farm Point Road on the way to Magaguadavic Lake.  Sarah served in the United States Civil War disguised as a man named Franklin Thompson.  The monument was an initiative led by Pepita Ferrari, director and producer of "The Unsexing of Emma Edmonds". The dedication was held in 2005 with members of the 20th Maine re-enactors present.  She was the only woman to be buried in the Grand Army of the Republic (GAR) section of Washington Cemetery in Houston, Texas.  
She was inducted to the Harvey Regional Heritage & Historical Association (Harvey Heritage) Wall of Recognition in 2017.  
Read more at
Transcription 
SARAH EMMA EDMONDS c. 1840-1898
This marker is dedicated here near her childhood home to honour the life of Sarah Emma Edmonds and her exceptional dedication and bravery.  As a young woman she left home and began living as Franklin Thompson, travelling bible salesman.  At the start of the American Civil War Frank was living in Flint, Michigan and enlisted in Co F, 2nd Michigan Volunteer Infantry.  As Private Franklin Thompson she performed all the duties of a soldier, nurse and postmaster to her brigade as well as aide to General Poe.  She served as a spy for the Union and carried out perilous missions behind enemy lines.
Sarah wrote a book of her exploits, "Nurse and Spy in the Union Army", and all proceeds were donated to the U.S. Sanitary and Christian Commissions.
In 1867 she married Linus Seeley of Saint John, NB.  They lived in various locations throughout the US, finally settling in Texas.  In 1884 after revealing her true identity, she was granted an honorary discharge and became the only woman soldier to receive a pension and be accepted into the Grand Army of the Republic.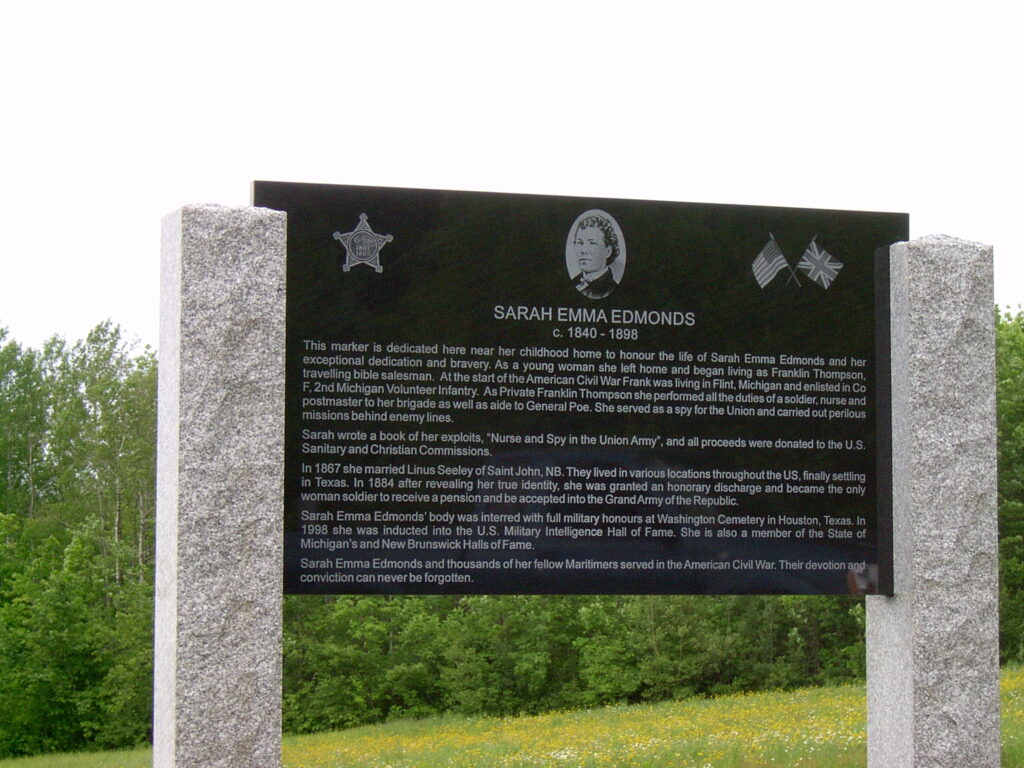 Sarah Emma Edmonds' body was interred with full military honours at Washington Cemetery in Houston, Texas.  In 1998 she was inducted into the U.S. Military Intelligence Hall of Fame.  She is also a member of the State of Michigan's and New Brunswick Halls of Fame.
Sarah Emma Edmonds and thousands of her fellow Maritimers served in the American Civil War.  Their devotion and conviction can never be forgotten.